Text FELINA to 76077 for Exclusive Deals
Free Shipping On Orders $80+
Different Types of Thongs: Exploring Your Options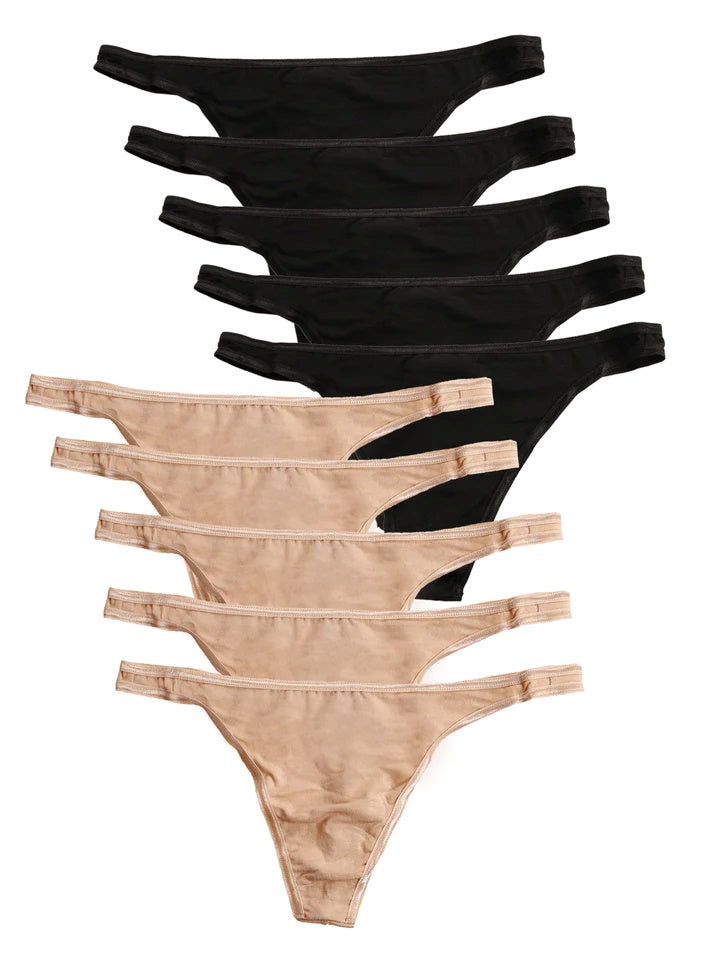 Thongs - or g-strings as they're often (incorrectly) referred to - are a common staple in most of our lingerie drawers. Great for their minimalistic design and the way they eliminate visible panty lines, thongs offer a unique blend of discretion, confidence and sensuality - but did you know that there are actually lots of different types of thongs to choose from? In fact, if you've always loved the visual appeal of thongs but can't seem to find a pair that feel "right", you might actually be wearing the wrong kind. In the following guide, we're going to take a look at all the different types of thongs on the market, so you can pick a pair (or several!) that will suit you the most. Let's dive in!
What Is a Thong?
We all know what a thong is, right? In short, a thong is a type of panty characterized by its minimal coverage and a distinctive T-shaped back. Unlike traditional panties, thongs consist of a narrow strip of fabric that runs between the buttocks, leaving the buttocks exposed rather than covered. You can find a range of women's thongs in all manner of styles and materials, from lace g-strings to cotton t-back thongs.
Different Types of Thongs
Classic Thong
The classic thong features a thin waistband and a triangular front piece connected to a thin strip of fabric that runs between the buttocks. The classic thong is a great starting point, offering minimal rear coverage and ideal for wearing under tight-fitting clothing.
G-String
The G-string takes minimalism to the next level, with a very thin waistband and a tiny triangular or V-shaped front piece. The back consists of a single string or narrow fabric strip, leaving the buttocks almost entirely exposed. G-strings are perfect for when you want to eliminate visible panty lines completely, and when you're looking for something minimal on the sexier side.
T-Back Thong
A T-back thong features a unique T-shaped design at the back, which provides a little more coverage than a G-string while still eliminating panty lines effectively. It offers a balance between comfort and minimalism, and you can find T-Back thongs in a range of colors, fabrics, and designs.
Brazilian Thong
The Brazilian thong combines the elements of a classic thong and a bikini, with a narrower back compared to traditional bikini panties. The Brazilian provides moderate rear coverage while still minimizing visible panty lines, and can be more comfortable for those with larger buttocks (this stops the small thong fabric getting caught up in your booty cheeks!).
Low-Rise Thong
Who remembers the 2000s? If you do, you'll remember the popularity of low-rise everything! Low-rise thongs have a lower waistband, making them ideal for low-rise jeans and pants, and they sit lower on the hips and offer minimal coverage in the back.
Lace Thong
Now onto fabrics, lace thongs add a touch of elegance and sensuality to your underwear ensemble, no matter the occasion. Lace thongs tend to have a cotton interior strip and feature lace detailing on the front or back, front, or a simple lace trim around the sides.
Cotton Thong
If you love thongs but hate the feel of scratchy underwear material, cotton thongs are perfect for you! Ideal for everyday wear, they offer comfort, breathability, and high-quality pieces even offer moisture-wicking properties, making them the practical choice for all-day comfort.
Seamless Thong
Seamless thongs are designed to eliminate visible panty lines entirely, and have risen in popularity alongside form-fitting and bodycon dresses. Seamless thongs tend to come in nude-tone colors and have smooth edges, and are made from stretchy, seamless fabrics, making them ideal for tight-fitting or sheer clothing.
What Is Thong Underwear Good For?
So, why wear thongs? Here are just some of the benefits:
Elimination of Visible Panty Lines (VPL)
Thongs are the go-to solution for eliminating visible panty lines, making them perfect for wearing under form-fitting, bodycon, or tight clothing. Their minimal coverage and absence of seams along the buttocks ensure a smooth, uninterrupted silhouette, so you can feel confident all night long no matter how daring your outfit.
Comfort and Freedom of Movement
As they're designed to stay in place, thongs provide minimal coverage without sacrificing comfort, reducing the need for adjustments throughout the day. The absence of excess fabric also means you can move freely without feeling constrained, especially if you opt for high waisted thongs with an elastic waistband.
How to Store and Care for Thongs
Properly caring for your thong underwear can extend their lifespan and maintain their comfort and appearance:


Hand Wash or Use a Lingerie Bag: To prevent damage to delicate lace or fabric, consider hand washing your thongs using a gentle detergent. Alternatively, place them in a lingerie bag before machine washing to protect them from tangling with other garments.
Avoid Fabric Softeners: Fabric softeners can break down the elastic fibers in thongs, causing them to lose their stretch. It's best to skip the fabric softener when washing thongs.
Dry Flat: To maintain their shape, lay your thongs flat to dry instead of hanging them by the waistband, which can cause stretching.
Separate Colors: Wash thongs with similar colors to prevent dye transfer. Dark-colored thongs should be washed separately or with like-colored items.
Store Separately: Store your thongs in a separate section of your lingerie drawer to prevent them from getting tangled or damaged by other clothing items. For more delicate fabrics, take a look at our guide on how to fold thongs.
FAQs
Are thongs uncomfortable to wear?
Thongs are designed with comfort in mind and should not be uncomfortable when worn in the correct size. Some people may need a little time to get used to the minimal coverage, but well-fitted thongs should not cause discomfort.
Can I wear thongs during workouts?
Thongs can be suitable for workouts, especially those made from moisture-wicking materials. However, personal comfort and hygiene preferences play a role. Some may prefer more coverage during physical activities.
Do thongs increase the risk of infections?
Proper hygiene is crucial when wearing thongs. Ensure that your thongs are clean, and avoid wearing them for extended periods. If you have a history of infections, consider choosing thongs made from breathable materials like cotton.
Can I wear thongs during pregnancy?
Thongs can be worn during pregnancy, but again, it's essential to prioritize comfort. Look for maternity thongs that offer support and stretch to accommodate your changing body, such as fuller coverage high waisted thongs.