Text FELINA to 76077 for Exclusive Deals
Free Shipping On Orders $80+
How Should Leggings Fit for Maximum Comfort and Style?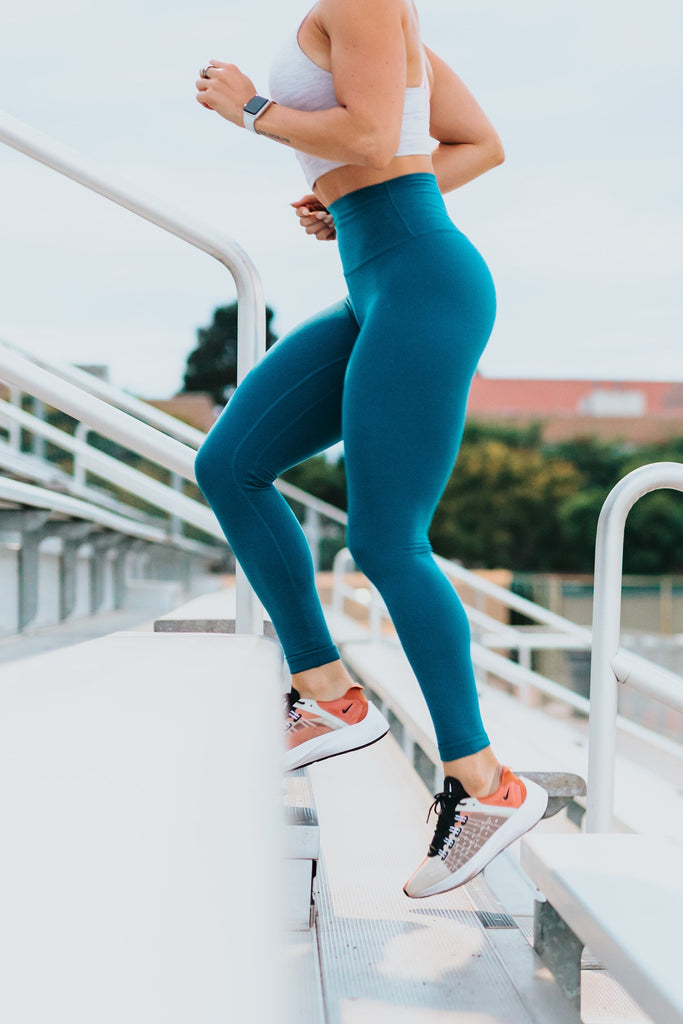 Where would our closets be without leggings? Not only are they the go-to choice for the gym or your home workout, but on days when you want both comfort and style, leggings are likely to be the easiest and most comfortable pair of pants to throw on.

But how should leggings fit to ensure you not only look great but also feel comfortable? In the following guide, we're going to take a look at what exactly constitutes the "perfect" legging fit, while also helping you understand the right fit for your body and style. Let's take a look!
What Are Leggings?
As we're sure you already know, leggings are form-fitting, stretchy pants that hug the legs and typically extend from the waist to the ankles. Typically made from a blend of materials such as spandex, nylon, and polyester, leggings offer their signature stretch, extreme comfort and the ultimate flexibility. While we might associate leggings with the black cotton version that's been popular since the 2010s, a quick look at the history of leggings shows that vibrant, shiny and spandex versions were once all the range.
Why Leggings Are the Perfect Casual Fit
Firstly - what makes leggings the go-to piece for a casual outfit? Here are just a few reasons:
Comfort
First and foremost - leggings are incredibly comfortable. The stretchy fabric allows for a wide range of movement, making them ideal for any of your weekday and weekend activities, whether it be yoga, taking a stroll to run some errands, or even heading out for a night out with friends.
Versatility
Leggings come in various styles, colors, and patterns, making them easy to dress up or down. You can pair them with a cozy sweater for a relaxed look or dress them up with a stylish tunic and boots for a night out, and with our wide selection of pocket leggings, you can even turn them into a functional pair of casualwear pants!
How Are Leggings Supposed to Fit?
So, how should leggings fit? While we're not totalitarians about how you wear your clothes, leggings are generally worn to fit as follows:
Snug Fit
Generally, leggings should fit snugly but not be excessively tight; they should mold to your body's shape without feeling restrictive or causing discomfort, and should offer a great deal of flexibility. A good rule of thumb is that you should be able to move freely without feeling like the fabric is cutting into your skin - if it does, your leggings are too tight, meaning you're wearing the wrong size.
No Baggy Areas
For a snug look, leggings should be free of wrinkles or baggy areas, particularly around the knees, hips, and waist. If you notice any sagging or extra fabric, it may be a sign that your leggings are too big or not the right style for your body shape. Some find that high waisted leggings are better at staying in place than low rise options, so opt for these if your leggings don't seem to offer a figure-hugging fit.
Stay in Place
Finally, your leggings should always stay in place during activities - this is what makes them so great for working out! If you find yourself constantly adjusting them or dealing with a sagging crotch, they likely don't fit correctly.
How Tight Should Leggings Be?
Generally speaking, the level of tightness you prefer in your leggings can vary based on your own preference as well as your intended wear for them. Here are some tips to help you determine how tight your leggings should be:
For Workouts
If you plan to wear leggings for workouts or physical activities, it's best to choose a pair that fits snugly but allows for unrestricted movement - however, avoid excessively tight leggings, as they can restrict blood flow and cause discomfort during exercise.
For Everyday Wear
For everyday casual wear, opt for leggings that offer a comfortable and slightly relaxed fit. These should feel snug but not overly tight, allowing you to move freely while maintaining a stylish look.
Consider Fabric
The type of fabric can also affect how tight your leggings feel: high-quality, stretchy materials like spandex blends tend to offer a more secure fit, while cotton leggings are more likely to slip down if you don't buy them in the right size.

Remember: body shape and personal comfort always play a significant role in how tight or loose your leggings should be, so these are just guidelines. Ultimately, the perfect fit is one that makes you feel confident, comfortable, and stylish.
Are My Leggings Too Small if They Fit Too Tight?
If your leggings feel excessively tight and uncomfortable, there's a good chance that they're too small for you. Leggings that are too small can cause discomfort, restrict your movement, and lead to fabric strain, which may result in tears or a loss of elasticity over time. If you're wearing the right size but your leggings still feel too tight, consider trying a different style or a brand that offers a more comfortable and true-to-size fit.
What If My Leggings Keep Sliding Down?
Leggings that constantly slide down can be frustrating. This issue often occurs when leggings are either too big or not the right fit for your body shape. To prevent leggings from sliding down:
Check the Size: Ensure you're wearing the correct size. If your leggings are too big, they are more likely to slide down.
Opt for High-Rise: High-rise leggings are designed to sit comfortably at your natural waistline and are less likely to slide down compared to low-rise options.
Consider a Different Brand or Style: Different brands and styles may fit differently, so experiment with various options to find the one that stays in place comfortably.
Choose Leggings with a Waistband: Leggings with a wide and elasticized waistband are more likely to stay in place.
Adjust Your Underwear: Sometimes, the type of underwear you wear with your leggings can affect how they stay up, so opt for seamless or high-rise underwear to prevent slippage.