Text FELINA to 76077 for Exclusive Deals
Free Shipping On Orders $80+
Women Empowerment & Body Positivity with Jenna Mariah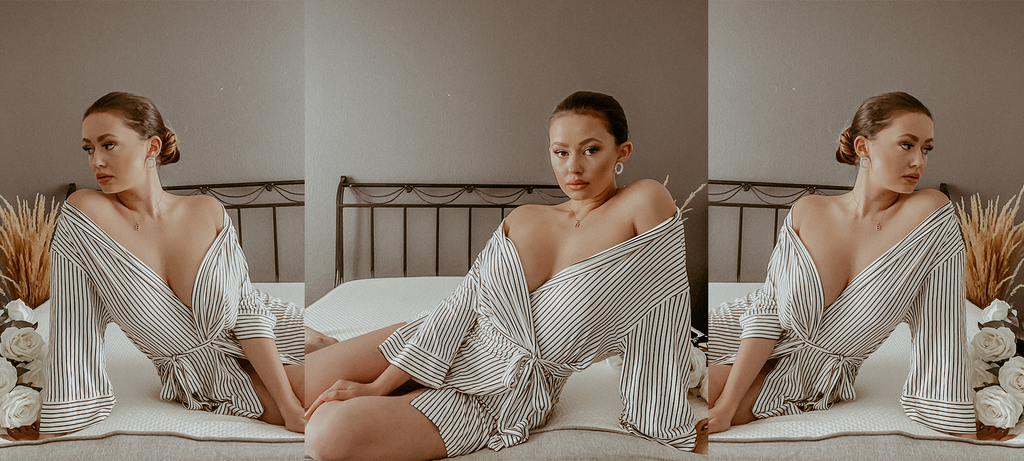 "Behind every successful woman is a tribe of other successful women, who have her back". Here at Felina, we encourage women daily to spread positivity, love and acceptance within their community. It's important for women to stand strong and to stand strong together. Of course, in order for that to fall into place, we all need to accept ourselves as who we are and remember our self-worth. Naturally, the topic of body positivity comes into play and we felt the need to reach out to one gal that practices and preaches it every day!
We have been working with Jenna Mariah for some time now and she has left quite the impression on us. She is the proud owner & founder of her own business - along with her sister (talk about girl power) and she uses her own social platforms to discuss female empowerment and body positivity. Read along to get to know her a bit better!

Felina Intimates: Tell us a little it about yourself!
Jenna Mariah: My name is Jenna Mariah, I'm a fashion obsessed, curve model living in Denver, Colorado.  I recently married the love of my life, Brian and we had such an amazing wedding! I own a business with my sister called Peanut Butter Creative, where we help other women entrepreneurs with strategic brand design!
FI: We LOVE your style and how you empower women everyday to embrace their body. What does body positivity and women empowerment mean to you?

JM: Thank you so much! I think my body positivity comes from having to deal with a lot of teasing in grade school due to my body and curves growing a lot more rapidly than some of the other girls my age. It definitely got to me at times  but it allowed me to have a tougher skin and prepared me for other tough situations for me later in life, It helped me to be able to navigate being rejected in the modeling industry at a young age for not being thin enough and for being 'too' curvy. I wanted to prove to other girls (and to myself) that you don't have to fit in the world's box or society's image of what you should be - you don't have to conform to be someone you aren't - what you do have to do, is celebrate yourself and who you are and the uniqueness that is you. I was told many times I wouldn't make it in the modeling industry but I didn't let it stop me. 5 years ago, I got my first international campaign with GUESS, Inc. and I've been working with their brand ever since. It's really confirmed for me that as women, we can do  anything we put our minds to!  I believe women empowerment means realizing  that you should  be proud of yourself, you should celebrate and share your accomplishments - and you should also encourage other women to do the same. When we allow ourselves to celebrate our bodies, our minds, our hearts and our abilities, those feelings snowball into positivity and confidence all around. The more we talk and share positively about ourselves and others, the easier it is to quite the noise of anyone or anything that tries to tell you otherwise. 
FI: What tips & tricks do you have for us when we're not feeling at our 100% once in a while?
JM: My biggest tricks for when I'm not feeling my best are all involving self care. For me, when I know I'm not feeling my best, it's super important for me to just take a break from the world, social media and work and just dedicate some time to myself. Some of my favorite ways to do this are: 
 - Taking an extra long shower/bath with an added mask, body scrub or feel-good peel. 
 - Scheduling a pedicure in a massage chair for some relaxation
- Treating yourself to your favorite coffee 
- Listening to music on your headphones and getting some sunshine outside (I usually do this in the form of walking my puppies!) 
FI: We love a #GirlBoss! Describe a typical day as the founder, designer, and brand strategist at Peanut Butter Creative!
JM: My typical #GirlBoss Day involves waking up with a cup of coffee, going over my work and personal schedule, getting to the gym to clear my mind, jumping on a call or two with a potential client, working on website designs for an existing client, handling social media for our business and for my personal blog, taking my adorable wrinkly puppies Douglas and Gia for a walk, and then prepping dinner and hanging out with my favorite guy, my husband! 
FI: How does it feel to help fellow ladies become confident?
JM: I love that feeling! I love watching other women and girls celebrate themselves and be proud of who they are. Women are such powerful beings and just so amazing - we are beyond capable of so many things and I just want to be part of the movement that encourages every woman and girl to follow their dreams and do whatever they want to do in life and in business! 
FI: Lastly, we HAVE to ask… what are your go-to Felina pieces?
JM: Oh gosh, this is a tough one. I love every robe I own from Felina but I would actually probably have to say my Dahlia Unlined Bra. I just love it! For a girl like me who has a pretty large chest, it's perfect! I love the thick straps and I love that it's so supportive and doesn't make you feel like your chest is even larger than it is. It goes great under any shirt and it's definitely my every day go-to!