Text FELINA to 76077 for Exclusive Deals
Free Shipping On Orders $80+
Most Popular Types of Bras Every Girl Should Know About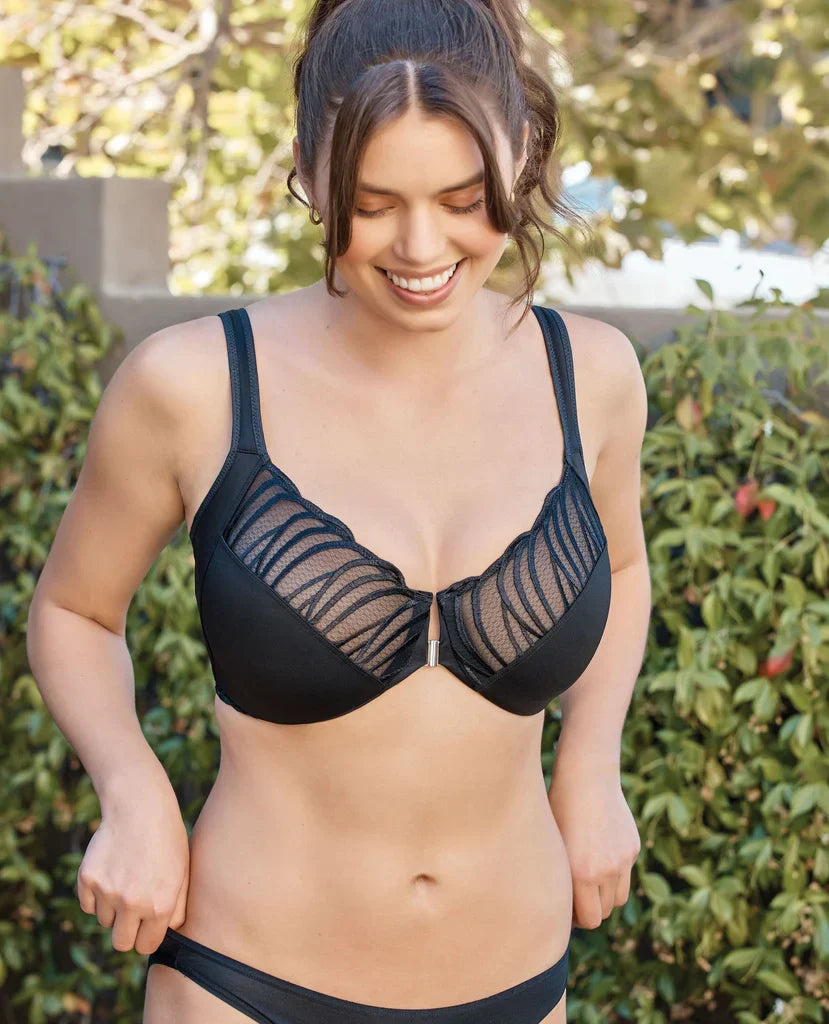 The world of women's lingerie offers an almost limitless choice of different bra styles, all tailored to fit varying body types, clothing requirements, and lifestyle needs. But how many types of bras are there, and which one is the best for you? If you're trying to rejuvenate your lingerie collection but not sure where to begin, we're here to help! In the following blog, we're going to take a closer look at all types of bras available on the market, understand their pros and cons, and help you determine which style is best for you.
So, what are the different types of bras, and what do they offer? Let's take a look!
T-Shirt Bras
The T-Shirt bra is something of an unsung hero of everyday wear: designed to be virtually invisible under your clothes, these bras feature seamless, molded cups for a smooth silhouette, and are perfect for your everyday work or office outfit. The padding of these bras helps prevent nipple show-through - which can be a common concern with tighter or thinner fabrics - and are also suitable paired with almost any outfit.
Unlined Bras
Unlined bras, contrary to their padded counterparts, offer a more natural shape and are ideal for those who want to wear the most comfortable bra possible. While they provide less structure, their key advantage lies in their lightweight and breathable fabric, making them ideal for hot weather or for those with larger busts who prefer less padding. The lack of lining doesn't mean a lack of support, though: with the right fit and underwire, unlined bras can support various bust sizes comfortably.
Sports Bras
For those invigorating workout sessions, sports bras are your reliable companion. Sports bras are designed to provide superior support and minimize movement: this is because any form of hard exercise - especially jump cardio - can end up putting strain on your breasts and potentially cause discomfort or pain during physical activities. While sports bras are typically designed as seamless pull-on bras for ultimate comfort, designs can range from high compression, which are ideal for low-impact activities, to encapsulated styles, which separate and support the breasts during high-impact activities.
Bralettes & Wireless Bras
Emphasizing comfort and a natural form, bralettes and wireless bras have seen a surge in popularity in recent years. Bralettes, often free of molded cups and underwires, prioritize a comfortable, easy fit over structured support. They're perfect for relaxed days or layering under casual wear.
A wireless bra with support, on the other hand, offers a happy medium between structured bras and bralettes, and they often have molded cups for shape. However, they lack underwire, providing gentle support without sacrificing comfort.
Side Smoothing Bras
Ever had a fitted dress ruined by bra bulge? You're not alone - but side smoothing bras are designed to tackle the pesky issue of 'bra spillage' and give you a sculpted, uniform silhouette in any outfit. But how? Side smoothing bras typically feature breathable side panels that help to smooth out the underarm area, giving a sleeker look under form-fitting clothes. This type of bra is excellent for women who desire a seamless transition from bra to body in their outfits, especially when wearing tight tops or dresses.
Minimizer Bras
Minimizer bras are designed for women with fuller busts who want to reduce the projection of their breasts: minimizer bras work by redistributing the breast tissue to create the impression of a smaller bust line, up to one inch or more. This can be particularly beneficial when wearing button-down shirts or dresses that risk gapping at the chest with other bra styles.
Strapless Bras
If you're a fan of spaghetti-strap dresses, off-the-shoulder dresses, bandeau tops or the much-loved "boob tube" of the 2000s, strapless bras are a wardrobe necessity, especially if you have a larger bust and can't rely on bra inserts or "sticky" bras to support your breasts.

Strapless bras tend to rely on a strong, wired underband for support, and many come with detachable straps for easy convenience and customizability. However, it's important to note that due to the lack of traditional straps, a correct fit is crucial to avoid a strapless bra from slipping down under your outfit.
Plus Size Bras
Plus size bras typically cater to those with larger band sizes or fuller busts, and provide the necessary support and comfort while embracing the wearer's natural shape. Plus Size Bras often feature wider straps, multiple hooks, and well-structured cups to offer a sculpted silhouette without compromising on comfort. When it comes to plus size bras, the key is to ensure that the bra offers good coverage, lifts the bust, but doesn't dig into the skin.
Finding the Perfect Fit
At Felina, we understand that finding the right bra size can be a challenging task - that's why we highly recommend using our bra measurement guide before making a purchase.
Our sizing is unique to our brand, and we want to ensure that you find the perfect fit for your body shape and size. Keep in mind that all brands have slightly different sizing, so it's essential to measure yourself before purchasing any bra, even if you've purchased from the same brand before.
By using our measurement guide, you can ensure that you're getting the right size and style that will provide both comfort and support. Our fitting experts are also available to assist you with any questions or concerns you may have about sizing, so don't hesitate to reach out for assistance. A well-fitting bra is essential for both comfort and confidence, so take the time to find the perfect one for you!