Text FELINA to 76077 for Exclusive Deals
Free Shipping On Orders $80+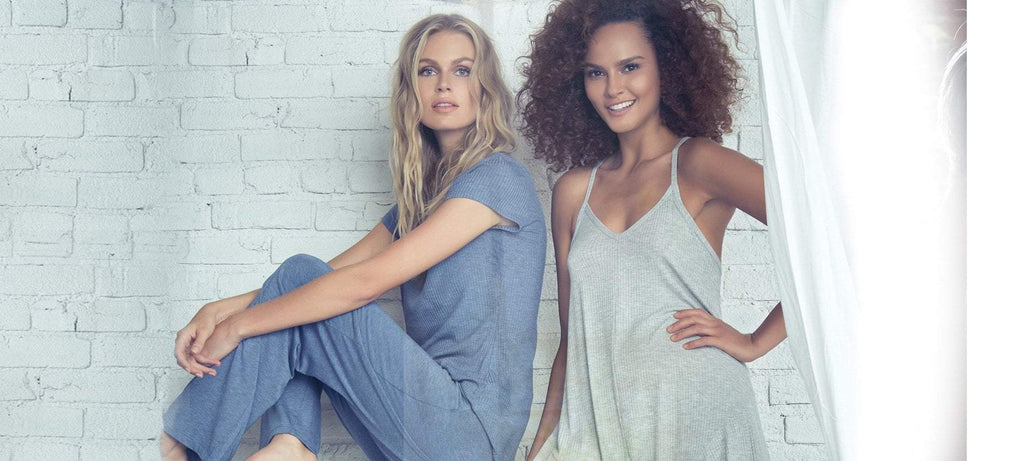 Are the fabrics that you wear close to your heart? Lately, I find myself constantly questioning fabric content, quality and durability with all of my clothes, even bras and underwear. It shouldn't be hard to find a fabric that not only flatters your body, but feels like a second skin. We want to formally introduce you to Modal, the fabric for which we have fallen madly in love.
Modal is a second generation regenerated cellulosic fiber and a variation of rayon. It is very soft and popular for both clothing and household textiles. The fiber may be used on its own or in a blend with cotton, spandex or other textiles. In many ways, it acts like cotton, but it has some significant benefits.
Here are just some of the reasons to love modal:
        1. Eco-Friendly & Sustainable
Fact: The manufacturing process for modal involves spinning reconstituted cellulose from beech trees. These non-toxic technologies have allowed the recovery of up to 95% of modals production materials, it's carbon neutral, requires less land per ton than cotton fibers and has a water consumption level that's 10x to 30x  less than cotton.
        2. Breathable & Moisture Wicking
Fact: Modal is around 50% more water-absorbent than cotton.
       3. Colors Stay Bright & Vibrant
Fact: Modal is designed to absorb the dye and stay color-fast when washed in warm water.

       4. Ultra-soft & Silky Smooth

Fact: Because modal is both absorbent and air-permeable and breathable, it is cool to the touch.

        5. Durable & Pilling Resistant

Fact: Modal is 50% more resistant to shrinkage than cotton and tends to pill less as a result of the longer fibers and lower friction on the surface, this allows is to be extremely hard-wearing and keep its shape and finish.
Modal's distinguishing characteristics will leave you feeling emotionally fulfilled, energized and comfortable. It is sometimes referred to as "soft as a feather", in addition to its use in general apparel, its softness makes it especially ideal for body contact clothing such as lingerie and under garments.
Did you know we use Modal in almost every category of our products? Here are our top 4 modal-based products from each category!
Sleepwear
When chic meets comfort! Our Ambra Modal Robe is the next level up from your traditional bathrobe – made of 95% Modal, thigh-length with a tie waist and striped detail, this is the perfect robe for a minimalist fashionista!
Loungewear
Hitting the beach? This Elements Modal & Rib Jumpsuit is the way to go: being 90% modal, it's moisture wicking features are great for the salty, humid weather! Featuring a cropped leg and dainty spaghetti straps, wear it over your swim suit or under a light cardigan to stay comfortable and chic all day long!
Foundations
A low rise bikini in comfortable Modal for soft comfort. Trimmed with narrow elastic for a flat "no lines" silhouette. Available in 27 new colors, made of 97% Modal Fiber, the So Smooth Low Rise Bikini offers the best in breathing and wicking properties to keep you comfortable all day.
Bra
Full coverage meets a convertible bra for the perfect bra to wear under every outfit. The seamless design of this Aubrie contour bra works well under T-shirts or a form-fitting camisole, and straps covert from standard straps to either criss-cross or halter for use with any style of top. 
Sustainable doesn't have to be boring – it can be pretty, feminine and chic!