Text FELINA to 76077 for Exclusive Deals
Free Shipping On Orders $80+
5 Reasons Why Over 5 Million Women Love Felina Leggings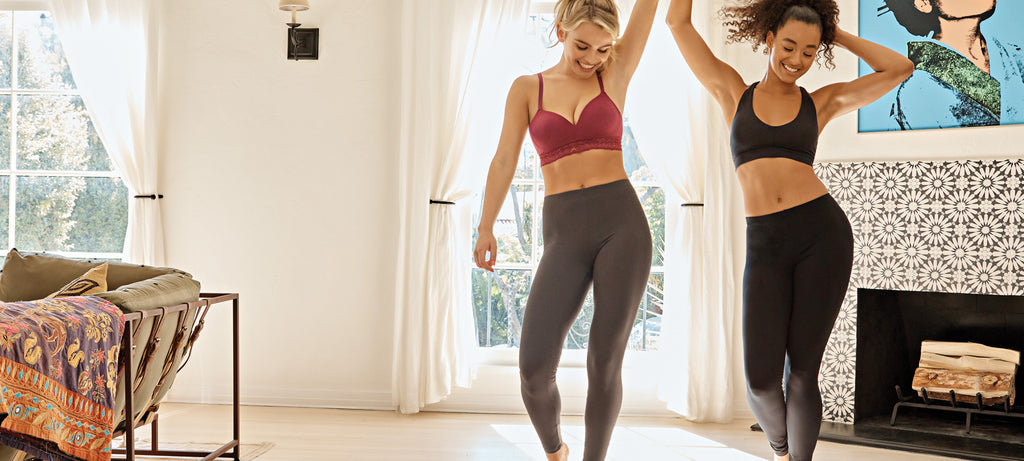 At Felina, we aim to help you live comfortably—and what's more comfortable than the perfect pair of leggings? We can't think of a better staple wardrobe piece. From work-from-home days and cozy movie nights to casual sweatshirt pairings, there's a million ways to wear our leggings! Whether you're looking for an athletic pair to wear during your walk around the park or something soft to show off around the house, we have a pair for every occasion and that's one of the many reasons why our customers love them! Here are five more reasons why over five million women LOVE our leggings:
1. They're comfortable!
Lightweight and comfortable, our leggings are designed for ultimate coziness. Our Velvety Soft High-Waisted Legging in particular is the most comfortable and versatile pair around. With soft brushed hand fabric with 4-way stretch, this curve hugging loungewear is always a fan favorite—perfect on the go, walking into a yoga class, or even spending a relaxing Sunday with friends.
2. They come in bundles!
Who doesn't love to bundle and save?! At Felina, we offer packs of two, four, and six of your favorite legging styles—from the ultra comfortably Velvety Soft to our Sueded Athletic, which is the perfect blackout legging. Plus, you get our perfect fit promise...if you don't love it, just send it back. We're all about happiness guaranteed!
3. They're available in maternity sizing!
Don't fret, mamas-to-be! Your favorite Felina Leggings are also available with maternity waistbands! Our maternity 2-packs make life easy—you always have an extra pair on hand! Made from the exact same fabric that you know and love from our #1 seller the "Velvety Soft Legging", you can get going and get comfortable with these versatile leggings...feeling like you've slipped on your favorite pair of pajamas.
4. They are versatile!
If you're stepping out on the town and want a pair of leggings that can take you there, Felina delivers! Dress up or down in our Faux Leather Legging, these black faux leather leggings have a slimming waistband and matte finish that is perfect for taking on the night while still being versatile. We also have our Instinct Reversible Legging, the coolest darn leggings to ever be legged! Wear them two ways, one side for those more casual days and the other side for the wild ones! Have fun and be comfortable with effortless wear day or night.
5. They're slimming!
Whether you're wearing our Black Crocodile Faux Leather High Waisted Leggings or the more active Lurra Cotton Span Capri Leggings, Felina leggings are known for their incredible slimming capabilities. Made of super comfy spandex and crafted for durability, many styles of our leggings offer slimming waistbands that every woman can appreciate. Whether you're working out, running errands, or meeting friends...feel confident doing it!