Text FELINA to 76077 for Exclusive Deals
Free Shipping On Orders $80+
What to Wear (Wherever You Are) for Memorial Day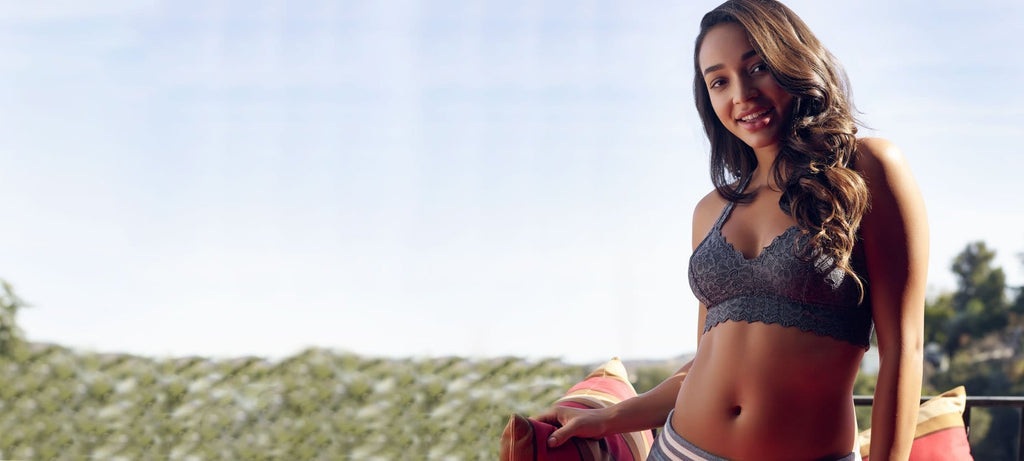 It's that time of year again! Memorial Day Weekend is the kickoff to summer for a lot of people – BBQ season, party season, warm weather season, the list of positive things Memorial Day brings can go on forever. With all these new events coming your way, you want to make sure you have the perfect outfit to go with each occasion! Revamp your summer wardrobe with some of our newest pieces from Felina Lounge, seen on women just like you! Check out these weekend outfits that will work perfectly for Memorial Day — and beyond.
The Whole Package
When all else fails, you can always count on a bodysuit to stay comfortable and look cute! Our Body Zone Criss-Cross Bodysuit is made of modal fabric so it's ideal to be worn in warmer weather! This simple silhouette is great for layering and if you style it with some cute denim jeans and sunglasses like Tiana, you'll be enjoying that summer BBQ sooner than you think!
Romping Around the Backyard

Memorial Day means three things to most of us – sun, swim & play! What 's better than being poolside in a flirty romper? Our Elements Modal & Rib Romper was made for an active chick - featuring a rib trapeze silhouette with modal straps and created with lightweight, breathable modal, it's perfect for wearing over a bikini by the pool!
Keeping it Cas' 

if you're a laid-back girl like me, you're totally confident showing up in some sneakers, a tank and leggings. Let's be honest – most memorial day BBQs are at home & leggings are the new jeans, especially because they're so much more flattering, comfortable and versatile! Our Sueded Legging is just one of the three best-seller leggings we provide. Not only is it made of sueded, stretchy peached fabric, but they seriously fit like a glove and can be worn with anything, without looking like plain old leggings!
 Soaking up the Rays 
Bralettes & Daisy Dukes? A match made in heaven! Our Lace Bralette is the ideal summer wardrobe staple – comes in 6 different colors, available in a 2-pack, is easy to wear and most important, it is comfortable & CUTE! If you're spending Memorial Day at the beach, pairing this with some shorts and sandals might be your best bet for that golden tan!
Double the Trouble
Simplify your weekend with a set! Our Finesse Cami Bralette & Modern Brief are the perfect pair to kick start summer parties with! Available in 5 blush-tone colors, the science behind this beautiful piece is in the tactile spandex which allows lace to have 4-way stretch and the softest hand to assure ultimate fit and amazing comfort. You can pair it with a denim skirt like Lexi or layer it with a jacket for a more evening appropriate look! Either way, you're ready for those party pictures!
All of these styles are an extra 30% off in our #MemorialDayWeekend SITE-WIDE FLASHSALE! Shop Now!