Text FELINA to 76077 for Exclusive Deals
Free Shipping On Orders $80+
Wire-Free Bras You Need In Your Life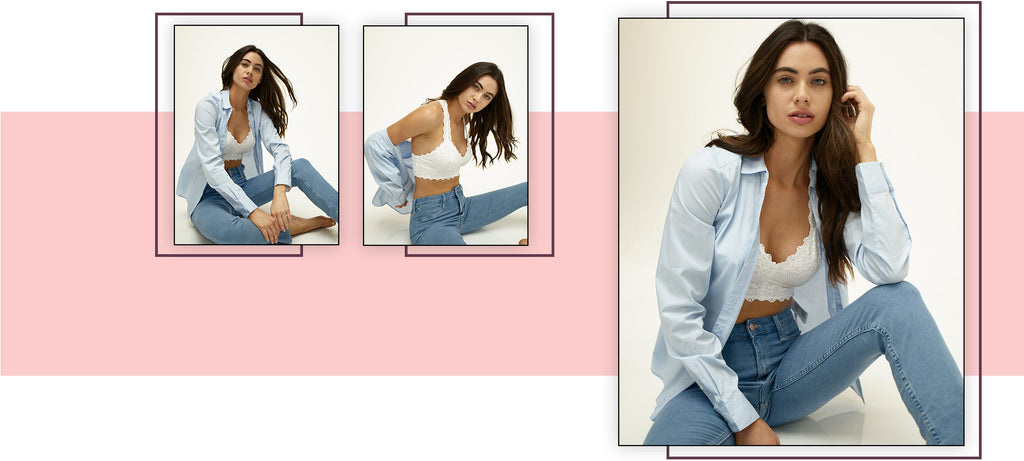 We've been stuck at home for what seems like forever now and we've been wearing no bras to those Zoom meetings like it's nobody's business. Or maybe you've been glamming it up to make an appearance at the living room - but of course no bras invited.
We totally get why you would want to escape from a bra as we tend to feel trapped and restricted whenever we wear one. Unfortunately...or should we say fortunately... at Felina we don't know that problem. Comfort comes first and we are all about wearing a bra because we sincerely forget we even had it on in the first place. Of course, we've taken advantage of working from home and have resorted to wire-free bras and bralettes simply because our boobs deserve a vacation too and at the moment we really don't need contour cups or padded bras to get us through the day since we're just hanging out home.
Here are our favorite wireless bras and bralettes that you need in your life ASAP.
Nothing says blissful quite like super soft 4-way stretch fabric that moves with you for friction-less comfort. You're going to catch yourself wearing the Blissful Super Stretchy Comfort Bra all day (and night) because of how ridiculously soft it is and how comfortable it feels on your skin- now this is what they call "love at first touch". This wireless bra has an ultra-smooth finish for that no show appeal making it your go-to bra for any outfit in your wardrobe! And did someone say "SUPER STRETCHY"? There really isn't much more needed to be said.
There's a reason why everyone loves the Finesse Cami Bralette. It's either the beautiful lace design or the 4 way stretch. Or even the fact that it is available in 5 beautiful colors or that there is just so many ways to style it. Oh yeah and how could we forget that something this pretty and delicate could feel so good for our girls! Well either way, we'll just let you find out and you can let us know why it became your favorite ;)
The Organic Cotton Bralette is a lovely addition to our wire-free bras & bralettes family and we're super excited about this one! The cotton we used in our new Organics Collection is 100% certified organic. This super cute bralette has all the appeal of our classic Felina styles and yet the fabric content takes it up to another level! This is comfort to the next degree, the organic cotton is a dream against your skin.
If you don't already have the Jezebel Lace Bralette, then your boobs have really been missing out on life. It features a pretty lace T-Back and a wide comfortable band and light mesh lining to add support. 
BONUS: It comes in 7 different colors so you're pretty much covered for the whole week! 
 
Removable bra pads, seamless and wire-free, hook & eye back closure, tagless- I mean the list goes on and on about why this is one is so great! We personally enjoy how the Seamless Wire-Free Bra could be used for your workouts or just as your essential go-to bra. Just beware that this bra gives a little lift, support and shape and you might not be to go back to an underwire traditional bra.
Ever worn a bra to bed? Sounds a bit unorthodox right? Well you might be surprised to hear that the Zig Zag Lace Bralette is a go-to for day activities and for going to bed! We know it sounds crazy but let's think about it for a minute. It contains modal stretch cup lining for ultimate comfort and light support, and it comes in a 2-pack so you can wear one during the day and one when you go to bed!
We also have a halter style version of this bralette that would be great for styling and showing off your bra for once! The Halter Lace Bralette shares the same features as the Zig Zag Bralette along with having a hook & eye closure for comfort and versatile removable pads.
Now that we've shared these must have wire-free bra & bralette styles... please do yourself a favor and ... GO WIRELESS.